Please be on standby to respond to email as this will be first come first serve. These dates are the only dates I will be booking at this time.Once you book for appointment please be ready to pay you non refundable deposit or appointment will be canceled <3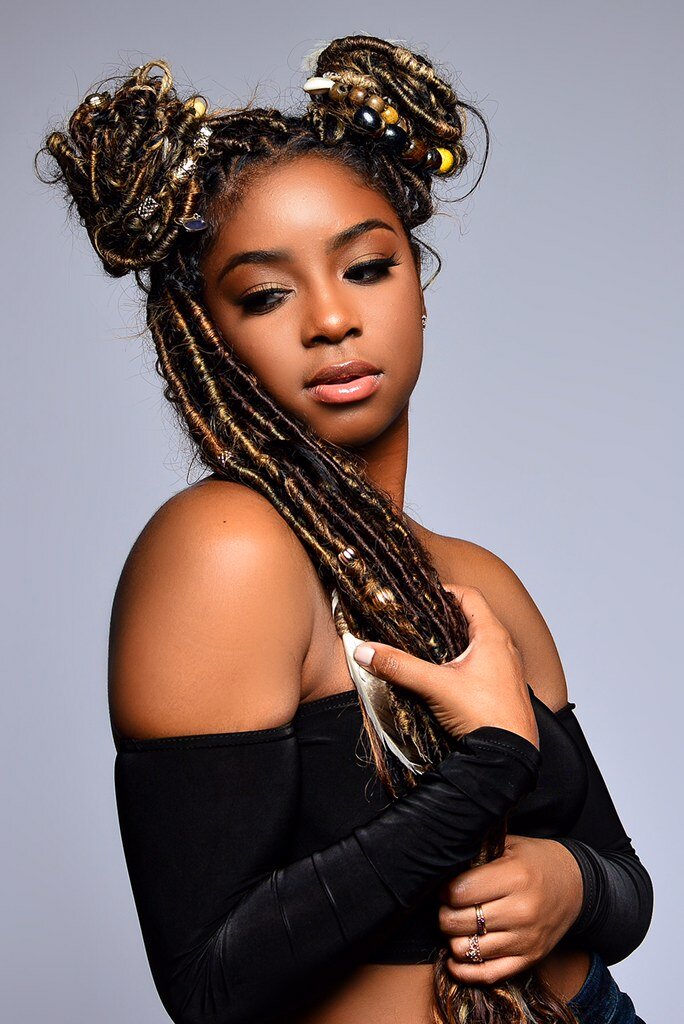 Human Hair:

Human Hair offers the most natural look and feel. It is remarkably soft with a shine and movement that is not easily duplicated in synthetic hair. Human Hair can be a more expensive pick, with the proper care, it is also more durable and can last longer for the price.
While the human hair is what wraps your hair another brand would be used to maintain underneath your loc. You would use a wavy texture also used for crochet hair. Such as Marley hair brands, Freetress loose deep or Freetress Deep Twist. This is to prevent slipping of any kind and hair unraveling out of loc.

Synthetic Hair:

When synthetic hair is installed it can take less time and feel very similar to human hair, however over time synthetic hair can lose curls some of its softness and feel slightly rougher, and the ends can also start frizzing. Some Synthetic locs you would never know they were not natural human hair if you didn't have the human hair right next to compare it to. One major benefit of Synthetic hair that I've noticed is the body that it provides over human hair.

Synthetic Human Hair Mix:


This would have to be my favorite hands down it simply provides the softness of human hair while maintaining the body of synthetic hair. With this mix you'll receive Locs that are % 100 Human Hair & Synthetic .. From your ends to your curly leave outs.
COLOR OPTIONS:
Please include Color option in the Inquiry

HONEY BROWN, BLONDE MIXES, BURGUNDY, PURPLE, PLATINUM BLONDE, BLACK
Savis "Gypsy Loc" Davis Wigs:
Price:
$400 for natural color wig
$475 for color wigs
Each Wig is Made to order.
Inquire for Purchase.
Hair Up-Keep
MISSION
Gypsy Locs have taken the black hair scene by storm. Seen on the likes of Lisa Bonet since 1987 and NOW Meagan Good, Ciara and so on. Even though this look is beautiful and soft, it takes a mentally strong and confident individual to rock these babies. With society's pressures of being dripped in diamonds and glued down with weaves, we're programed to forget natural beauty.

This style has allowed us to come out of those stigmas given to black women, so ladies, when booking this style please take the mental steps to appreciate your beauty that will be highlighted even brighter.
XoXo
THE TERM PROTECTIVE STYLE DOESN'T MEAN NEGLECTED STYLE
Hair care and maintenance is a must for Gypsy Locs. You should oil your scalp daily, wash with warm water and conditioning is also recommended bi-weekly, as well as taking your daily vitamins. You'll be surprised to see the luxurious glow your hair has after its Gypsy loc transformation!

I personally started rocking gypsy Locs 5 months ago, and the results has definitely been a recipe for success, thicker, softer, lush hair. I remember those days, I would have to spray it, press it, smack it. Now all I have to do is oil it, wrap it and watch it grow.
BUT FIRST, PLEASE CONSIDER IF THIS STYLE IS FOR YOU
It's MESSY! It's purposely done of course, the style should resemble dreads. Again, think Lisa Bonet vibes y'all. *Snap Fingers* This isn't standard, or the style most people are use to in comparison to the likes of Faux Locs. The imperfections it self brings character, therefore you NATURALLY stand out.
AFTER I SUBMIT AN INQUIRY WHAT HAPPENS NEXT?
The Information requested in the inquiry is critical, as a traveling artist it allows my team to know what city your located. The appointment wait list is organized so we can coordinate a proper time frame for your appointment when I'm set up shop in your area. The tedious information required is to also make sure that you aren't some sketchy catfish ( : From there we will be in touch via email for when we can send you the private scheduling calendar. Please Double check the social media link to make sure they are working properly, this an essential part to our verification process.
Also please note, All information needs to be correct, if you are unreachable via Phone then your appointment will be cancelled.
<3 Savis Davis <3